Food Network Canada's holiday programming lineup includes new and returning series plus specials jam-packed with festive feasts and famous faces, delivering viewers a taste of holiday spirit all season long. New series and specials include Buddy Valastro's much-anticipated series Buddy vs. Christmas and Candy Land hosted by Kristin Chenoweth.
After securing spots as two of the Top 5 programs on Food Network Canada last fall,* Ho liday Baking Championship and Christmas Cookie Challenge return for new seasons, alongside other fan-favourite series Kids Baking Championship: Season's Sweetings, and Holiday Wars.
Rounding out the schedule is additional new holiday specials, daytime instructional programming, and marathons of the most festive content of years past, ensuring that viewers will always have a hearty helping of season's eatings.
Programming highlights include:
NEW SEASON
Holiday Wars, Season 2 (6x60min)
Canadian Broadcast Premiere
Sundays at 10 p.m. ET/PT 
It's time for a brand-new holiday season competition packed with tons of Christmas cheer! Hosted by Raven-Symoné, five teams of cake masters and sugar artists face off in four jolly battles, creating mind-blowing, fantastical holiday displays that are as festive as they are delicious. In the Snowball Fight challenge, the competitors must use cake and sugar to create an edible holiday design in just 45 minutes. One winning team wins an advantage for the Winter Blizzard challenge, where they have to craft an eye-popping Christmas display made up entirely of cake and sugar. One team is eliminated after each battle, and in the end, one team will jingle all the way home with a $25,000 grand prize.
NEW SEASON
Holiday Baking Championship, Season 7 (2x120min & 6x60min)
Canadian Broadcast Premiere
Mondays at 9 p.m. ET/PT

The search to find the greatest holiday baker begins as eight amateur bakers enter the kitchen, where they show off their family traditions and superb baking skills. To survive the challenges from week to week, they must prove their abilities in front of the tough-love judges: Duff Goldman, Nancy Fuller and Lorraine Pascale. Hosted by Jesse Palmer, this baking championship is the sweetest way to celebrate this holiday season.
NEW SPECIAL
Kids Baking Championship: Season's Sweetings  (1x60min)
Canadian Broadcast Premiere
Sunday, November 8 at 9 p.m. ET/PT
Four beloved kid bakers are back and must think on their feet, as Valerie Bertinelli and Duff Goldman challenge them to create holiday gingerbread houses with a cake twist. Their skills are tested with a surprising curveball of making reindeer treats as well. One winner will rise to the top to take home a baker's dream prize package of top-of-the-line baking equipment worth over $10,000.
NEW SEASON
Christmas Cookie Challenge, Season 4 (6x60min)
Canadian Broadcast Premiere


Sundays at 9 p.m. ET/PT beginning November 15
Holiday cookies are more than mere sweets — they are gifts, mementos of childhood, and most certainly made with pride. In Christmas Cookie Challenge, five confident and daring bakers compete to prove their holiday cookie-making skills. Tough-love judges are on hand to crown the holiday cookie master, who will go home with a $10,000 prize!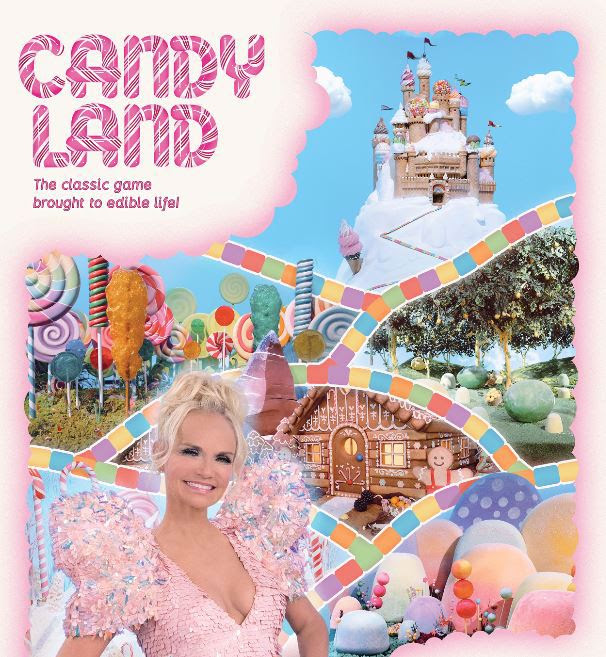 NEW SERIES
Candy Land (1x120min & 5x60min)
Canadian Broadcast Premiere
Tuesdays at 10 p.m. ET/PT beginning November 17
On the sweetest new competition series, Candy Land,  host Kristin Chenoweth guides five teams of professional cake and sugar artists through fantastical challenges to create heavenly confectionary showpieces based on the iconic Hasbro game. Each of the six episodes feature the players stepping into one of the eye-popping life-size lands, from Peppermint Forest and Gumdrop Mountains, to Chocolate Mountain and Lollipop Woods, to forage for flavors and unique ingredients to use for their masterpiece designs. Judges Nacho Aguirre and Aarti Sequeira determine which teams advance down the board, and the first to make it to King Kandy's Castle wins the game and earns the grand prize of $25,000.
NEW SERIES
Buddy vs. Christmas (4x60min)
Canadian Broadcast Premiere
Mondays at 10 p.m. ET/PT beginning November 23
Buddy Valastro goes head-to-head with the greatest non-cake artists in the new elaborate Christmas-themed competition series,  Buddy vs. Christmas. Buddy's skills will be tested as he goes up against an award-winning scenic designer, a glassblower, an animatronics expert and more. The one that conquers Christmas with their design will be crowned winner by cartoonist and comedian Jason Chatfield and lifestyle blogger Courtney Quin.
DAYTIME PROGRAMMING
Some of Food Network most recognizable faces share holiday-themed instructional programming from series including Giada's Holiday Handbook, Guy's Ranch Kitchen, The Kitchen, The Pioneer Woman, and Valerie's Home Cooking.
RETURNING HOLIDAY SPECIALS
In addition to the new programming, Food Network Canada's schedule is jam-packed with holiday-themed episodes and specials from fan-favourite series including Chopped, Chopped: Sweets, Chopped Juniors, Guy's Grocery Games, The Big Bake: Holiday, The Great Food Truck Race, and more.
HOLIDAY MARATHONS
Beginning December 7, marathons of fan-favourite holiday series and specials air every day from 2 p.m. to 8 p.m. ET/PT.
Viewers can also cozy up on the couch and enjoy marathons of Christmas Cookie Challenge, Gingerbread Giants, Holiday Baking Championship, Holiday Gingerbread Showdown, Holiday Wars, Santa's Baking Blizzard, The Big Bake: Holiday, and more.