This fall, Adult Swim in Canada debuts four new series including Saul of the Mole Men, Genndy Tartakovsky's Primal, Black Dynamite, and DC Universe's highly-anticipated new animated series, Harley Quinn. As previously announced, this November will see the long-awaited return of hit series Rick and Morty as well as new seasons of Black Jesus, Superjail!, and fan favourite Robot Chicken.
Adult Swim is available on a National Free Preview from November 1 to November 30. Please check local listings for additional details.
Canadians can watch their favourite Adult Swim series through STACKTV, streaming exclusively on Amazon Prime Video Channels. STACKTV is a new multi-channel television package featuring 12 top-tier networks, delivering audiences the latest episodes of hit series live and on-demand.
Black Jesus, Season 3 – Friday, September 20 at midnight
Black Jesus centres on Jesus living in present day Compton, CA, on a daily mission to spread love and kindness throughout the neighbourhood, with the help of his small but loyal group of downtrodden followers. Aaron McGruder and Mike Clattenburg serve as creators and executive producers through McGruder's 5 Mutts Productions. LEG's Norman Aladjem, John Bravakis and Stu Schreiberg, along with Robert Wise and Meghann Collin, are also executive producers.
---
Superjail!, Season 2 – Sunday, September 29 at 11 p.m and Season 3 – Sunday, November 3at 11 p.m.
Superjail! is released from solitary and slammed back in general population for a second and third season of destruction on Sunday, September 29 at 11 p.m. and Sunday, November 3 at 11 p.m.. Superjail! is produced at Titmouse Studios in N.Y. Series creators and executive producers Christy Karacas (Cartoon Sushi, Robotomy) and Stephen Warbrick (Beavis and Butthead, Daria) have teamed up again to take this over-the-top animated series to the next level.
---
Robot Chicken, Season 10 – Sunday, September 29 at Midnight and 12:15 a.m.
The tenth season is a milestone for Adult Swim's hit show as the Emmy® Award-winning series celebrates its 200th episode and breaks new ground in animated sketch comedy with top-secret formats!
Robot Chicken uses stop-motion animation to bring pop-culture parodies to life in a modern take on the variety/sketch show format. The series debuted February 2005 and remains among the top-rated original series on Adult Swim. Robot Chicken is created and executive produced by Seth Green and Matthew Senreich, and their Stoopid Buddy Stoodios partners, John Harvatine IV and Eric Towner, also serve as executive producers. Green and Senreich also write, voice, and direct the series with Tom Sheppard.
---
Saul of the Mole Men – Friday, October 4 at 10:30 p.m.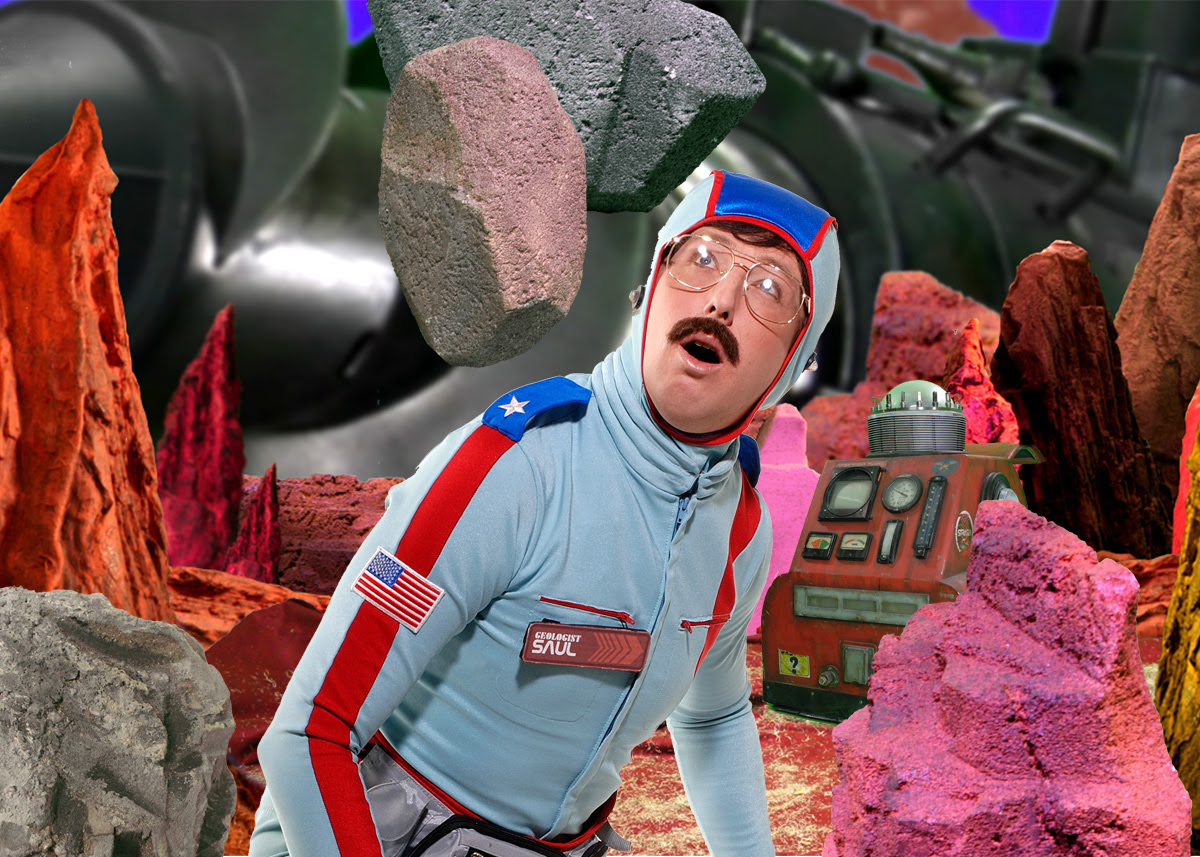 Saul Malone is a geologist, a "rock-jock" as he calls himself, who is socially awkward and a poor decision maker. So isn't he the person who you would want to save the Earth? That's exactly what he's asked to do when he goes on a mission to the centre of the planet in an attempt to prove his theory that all rocks are descended from an extinct Mother Rock. But when the mission goes awry and his ship crashes, he enters the bowels of the Earth where he encounters mole men and a great evil – an evil that only he can stop. If he can't stop it, not only will he die, but he'll take everyone else on Earth with him.
---
Genndy Tartakovsky's Primal – October 7-11 at Midnight
Genndy Tartakovsky's new prehistoric series, Primal, unleashes with a special five-night event beginning Monday, October 7 at Midnight. From the creator behind the Emmy® award-winning series Samurai Jack, comes a new tale that follows a caveman at the dawn of evolution as he forms an unlikely friendship with an almost extinct dinosaur.
The stunning and epic series is a painting come to life relying solely on music and graphic imagery to tell the story of two unlikely allies as they navigate through a treacherous world. After bonding over unfortunate tragedies, they seem to become each other's only hope of survival against a common enemy.
Genndy Tartakovsky's Primal was created by Genndy Tartakovsky (Dexter's Laboratory, Samurai Jack) with art direction from Scott Wills (The Ren & Stimpy Show, Samurai Jack) and music composition from Tyler Bates (Guardians of the Galaxy, Samurai Jack).
---
Black Dynamite – Wednesday, October 9 at 10 p.m.
Based on 2009's critically-acclaimed feature film, Black Dynamite, the 30-minute animated series further chronicles the exploits of the central character, Black Dynamite, and his crew. Under the direction of Carl Jones (The Boondocks), the series features the voice talent of Michael Jai White, Tommy Davidson, Kym Whitley and Byron Minns, all of whom starred in the feature film. The feature film is an outrageous action comedy-spoof that follows ex-CIA agent and full-time ladies man, Black Dynamite, who's out to avenge the death of his brother against kung-fu masters, drug-dealing pimps and The Man.
Black Dynamite, the animated series, is produced by Ars Nova Entertainment. Carl Jones, Jon Steingart, Jillian Apfelbaum and Brian Ash are executive producers. Scott Sanders, Michael Jai White and Byron Minns are producers. Black Dynamite is animated by Titmouse, Inc.
---
Harley Quinn – Coming this Fall 
Harley Quinn has finally broken things off once and for all with the Joker and attempts to make it on her own as the criminal Queenpin of Gotham City in this half-hour adult animated action-comedy series. The series features Harley Quinn, Poison Ivy and a whole cast of heroes and villains, old and new, from the DC Universe. Patrick Schumacker and Justin Halpern serve as executive producers and Jennifer Coyle serves as supervising producer. The highly-anticipated adult animated comedy series stars Kaley Cuoco (The Big Bang Theory), who voices the title role of Gotham's queenpin is also an executive producer of the series.
---
Rick and Morty – Coming this November
Rick and Morty is the critically acclaimed and award-winning half-hour animated hit comedy series that follows a sociopathic genius scientist who drags his inherently timid grandson on insanely dangerous adventures across the universe. Rick Sanchez is living with his daughter Beth's family and constantly bringing her, his son-in-law Jerry, granddaughter Summer, and grandson Morty into intergalactic escapades. Rick and Morty stars Justin Roiland (Adventure Time), Sarah Chalke (Scrubs), Chris Parnell (Saturday Night Live), and Spencer Grammer (Greek). The series is created by Dan Harmon (Community) and Roiland, who also serve as executive producers.