MUST-WATCH TITLES FOR AUGUST

AUGUST 1 – HBO's INDUSTRY *Season 2 Premiere*
Following a group of young bankers as they forge their identities within the pressure cooker environment, and sex and drug fueled blitz of international bank Pierpoint & Co's London office, INDUSTRY, returns to Crave on Monday, August 1 at 9 p.m. ET. In Season 2, the grads are no longer allowed to hide behind their graduate status. The market is ripping, and Pierpoint's back to work or else mandate, has the trading floor more charged up and paranoid than ever. New U.S. management, led by new series regular Jay Duplass (THE CHAIR, TOGETHERNESS), will be gasoline on the flames – an injection of cross Atlantic energy that lights a fire under each and every employee. Now Harper (Myha'la Herrold), Yasmin (Marisa Abela), and Robert (Harry Lawtey) must drive new business, and make new alliances both in and out of the office as Pierpoint and its junior bankers seek to take every advantage in a post-COVID world. The eight-episode season premieres Monday, August 1, with subsequent episodes dropping Mondays.
AUGUST 12 – RUPAUL'S SECRET CELEBRITY DRAG RACE *Season 2 Premiere*
In this limited event series, three RUPAUL'S DRAG RACE fan favourites give three different A-listers drag makeovers, then the celebs battle it out in classic Drag Race competitions. Featuring Brooke Lynn Hytes, Jujubee, and Monet X Change as Queen Supreme mentors. RUPAUL'S SECRET CELEBRITY DRAG RACE Season 2 premieres on Friday, August 12 at 8 p.m. ET.

AUGUST 12 – BELFAST *Movie Premiere*
Recipient of the Toronto International Film Festival People's Choice Award, and Academy Award for Best Original Screenplay, BELFAST is a semi- autobiographical coming-of-age drama written and directed by Kenneth Branagh, and set during the tumult of late-1960s Northern Ireland. The film follows young Buddy (Jude Hill) as he navigates a landscape of working-class struggle, sweeping cultural changes, and sectarian violence. Buddy dreams of a glamorous future that whisks him far from the Troubles, but, in the meantime, he finds consolation in his charismatic Pa (Jamie Dornan) and Ma (Caitríona Balfe), and his spry, tale-spinning grandparents (Ciarán Hinds and Judi Dench). BELFAST drops Friday, August 12.
AUGUST 13 – HBO Original Documentary THE PRINCESS
THE PRINCESS debuts on Saturday August 13 at 8 p.m. ET, commemorating the 25th anniversary of Princess Diana's death on August 31. Princess Diana's story is told exclusively through contemporaneous archival footage creating a bold and immersive narrative of her life, and death. Turning the camera back on the viewers, the film illuminates the profound impact she had, and how the public's attitude to the monarchy was, and still is, shaped by these events. Directed by Ed Perkins.

AUGUST 14 – STARZ Original Series POWER BOOK III: RAISING KANAN *Season 2 Premiere*
Season 2 of STARZ's Original series POWER BOOK III: RAISING KANAN debuts Sunday, August 14. Set in the early 1990s, the third series in the "Power" Universe, tells the origin story of fan favorite character Kanan Stark, and his entry into the criminal world through his mother, who ruthlessly runs the family's drug empire. Starring MeKai Curtis in the titular role of Kanan, and Tony® Award winner Patina Miller as his mother, Raquel "Raq" Thomas. As the second season begins, Raq has gained control over the city's drug trade, but her son is slipping away. Kanan Stark returns to Queens, uncertain of his future with the family business, and because of Detective Howard's lingering secret, even more uncertain of his past. Kanan searches for the truth, while Raq boldly expands the business into hostile Mafia territory. Lou-Lou has other plans that revolve around his emerging record label, but Raq isn't about to let his side hustle get in the way of her expansion. Although Marvin remains Raq's loyal soldier, he struggles to earn Jukebox's forgiveness, and become the father she deserves. The ties that bind this family are becoming undone, but Raq will stop at nothing to hold them together. POWER BOOK III: RAISING KANAN follows a weekly release schedule, with new episodes streaming Sundays.
AUGUST 17 – DRAG RACE PHILIPPINES *Series Premiere*
Crave delivers the inaugural season of DRAG RACE PHILIPPINES, beginning Wednesday, August 17. In this hotly awaited version of the worldwide hit, 12 iconic queens slay and race to the finish line to be crowned the first Drag Race Superstar from the Philippines. On the starting line is this season's host, Paolo Ballesteros. Known as the face of one of the longest-running noontime shows in the Philippines, the multi-awarded actor, model, and drag artist well-known for his stunning makeup transformations, steers contestants as they battle it out to the end. Also joining the judges panel is DRAG RACE Season 4 and ALL STARS 6 alum Jiggly Caliente, and multi-hyphenate entertainer KaladKaren, making this RuPaul's first franchise show with two trans women as permanent judges. New episodes of DRAG RACE PHILIPPINES drop on Crave every Wednesday.

AUGUST 19 – THE EYES OF TAMMY FAYE *Movie Premiere*
THE EYES OF TAMMY FAYE streaming on Friday, August 19, is an intimate look at the extraordinary rise, fall, and redemption of televangelist Tammy Faye Bakker, played by Jessica Chastain, who won the Academy Award® for Best Actress for the role. In the 1970s and 80s, Tammy Faye and her husband, Jim Bakker (Andrew Garfield), rose from humble beginnings to create the world's largest religious broadcasting network and theme park, and were revered for their message of love, acceptance and prosperity. Tammy Faye was legendary for her indelible eyelashes, her idiosyncratic singing, and her eagerness to embrace people from all walks of life. However, it wasn't long before financial improprieties, scheming rivals, and scandal toppled their carefully constructed empire.

AUGUST 21 – HBO's HOUSE OF THE DRAGON *Series Premiere*
HBO's highly anticipated new drama series HOUSE OF THE DRAGON, premieres on Crave on Sunday, August 21 at 9 p.m. ET. Based on George R.R. Martin's Fire & Blood, and co-created by co-showrunners Ryan Condal and Miguel Sapochnik, the 10-episode series, set 200 years before the events of GAME OF THRONES, tells the story of House Targaryen (House of the Mother of Dragons, Daenerys Targaryen). Executive produced by George R.R. Martin, Ryan Condal and Miguel Sapochnik, the show stars Paddy Considine, Matt Smith, Olivia Cooke, Emma D'Arcy, Steve Toussaint, Eve Best, Fabien Frankel, Sonoya Mizuno, and Rhys Ifans. HOUSE OF THE DRAGON follows a weekly release schedule with new episodes dropping Sundays at 9 p.m. ET.

AUGUST 25 – STAR TREK: LOWER DECKS *Season 3 Premiere*
The all-new season of STAR TREK: LOWER DECKS premieres Thursday, Aug. 25 at 9 p.m. ET on Crave and CTV Sci-Fi Channel. Season 3 of the half-hour animated comedy challenges the S.S. Cerritos ensigns in (hilarious) ways they could never imagine, starting with a shocking resolution to Season 2's epic cliffhanger finale. The Starfleet crew residing in the "lower decks" of the U.S.S. Cerritos includes Ensign Beckett Mariner, (Tawny Newsome); Ensign Brad Boimler, (Jack Quaid); Ensign Tendi, (Noël Wells); and Ensign Rutherford, (Eugene Cordero). The Starfleet characters that comprise the U.S.S. Cerritos' bridge crew include Captain Carol Freeman, (Dawnn Lewis); Commander Jack Ransom, (Jerry O'Connell); and Doctor T'Ana, (Gillian Vigman). STAR TREK: LOWER DECKS follows a weekly release schedule with new episodes dropping Thursdays on Crave and airing Thursdays at 9 p.m. ET on CTV Sci-Fi Channel.

AUGUST 26 – DEATH ON THE NILE *Movie Premiere*
Belgian sleuth Hercule Poirot's (Kenneth Branagh) Egyptian vacation aboard a glamorous river steamer turns into a terrifying search for a murderer, when a picture-perfect couple's (Gal Gadot and Armie Hammer) idyllic honeymoon is tragically cut short. Set against an epic landscape of sweeping desert vistas, and the majestic Giza pyramids, this tale of unbridled passion and incapacitating jealousy features a cosmopolitan group of impeccably dressed travelers played by stars Annette Bening, Russell Brand, Rose Leslie, Letitia Wright and enough wicked twists and turns to leave audiences guessing until the final, shocking denouement. DEATH OF THE NILE is available for streaming on Crave on Friday, August 26.

AUGUST 26 – Crave Original Stand Up SOPHIE BUDDLE: SMILE, BABY*Special*
Streaming Friday, August 26, nothing is off limits for Sophie Buddle in Crave's fifth installment of new original stand-up specials. Filmed in front of a live audience during the 2021 Just For Laughs Festival in Montréal, in SOPHIE BUDDLE: SMILE, BABY, Buddle skewers stereotypes, from sexual fantasies and vibrators, to edibles and nanny fever.
HIGHLIGHTS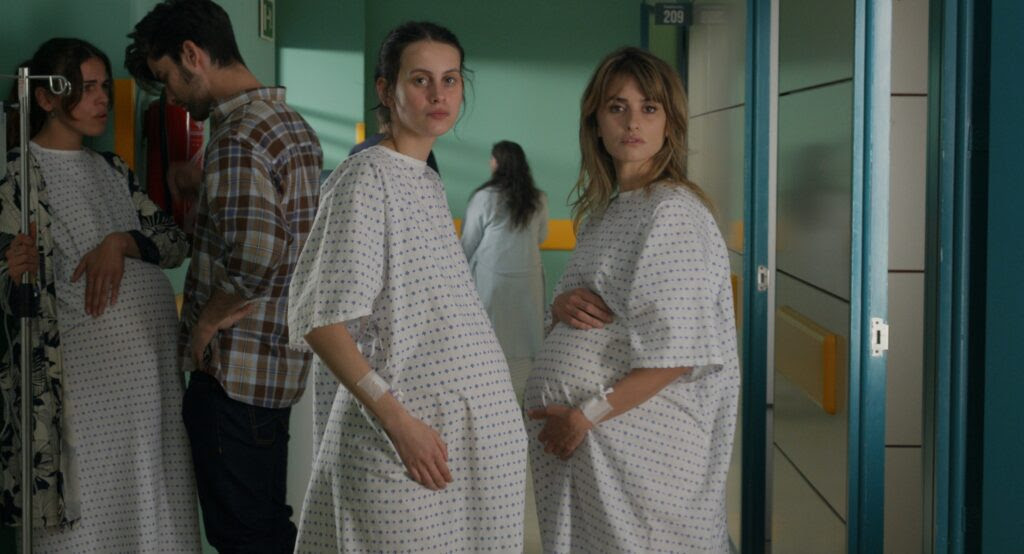 AUGUST 5 – PARALLEL MOTHERS *Movie Premiere*
PARALLEL MOTHERS comes to Crave on Friday, August 5. Two women, Janis (Penélope Cruz) and Ana (Milena Smit) cross paths in a hospital room as they wait to give birth. Both are single and became pregnant by accident. Janis, middle-aged, doesn't regret it and is exultant. Ana, an adolescent, is scared, repentant, and traumatized. Janis tries to encourage her while they move like sleepwalkers along the hospital corridors. The few words they exchange in these hours create a very close link between the two, which develops and complicates, and changes their lives, in a decisive way.

AUGUST 5 – NIGHTMARE ALLEY *Movie Premiere*
Nominated for four Academy Awards® including Best Picture, NIGHTMARE ALLEY, directed by Guillermo del Toro, drops Friday, August 5 on Crave. The neo-noir psychological thriller set in 1940s New York, sees down-on-his-luck Stanton Carlisle (Bradley Cooper) endear himself to a clairvoyant, and her mentalist husband at a traveling carnival. Using newly acquired knowledge, Carlisle crafts a golden ticket to success by swindling the elite and wealthy. Hoping for a big score, he soon hatches a scheme to con a dangerous tycoon with help from a mysterious psychologist who might be his most formidable opponent yet.