TV SERIES

Told through a collection of voice-overs by central character Elena as she reads from her diary, the series centers on the 12-year-old Cuban American girl, who attends middle school as she aspires to be the future president of the United States. The series stars Tess Romero, Charlie Bushnell, Selenis Leyva and Michael Weaver. Gina Rodriguez also stars as through flashforwards as the adult version of Elena, as she undertakes her presidential campaign in the future.
Genre: Comedy
No. of Seasons: 1

Status:
Series premiered
January 17, 2020
---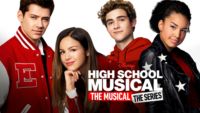 The 10-episode scripted series, set as the real-life East High, where the original movie was filmed, follows a group of students as they countdown to opening night of their school's first-ever production of "High School Musical." With meta references and some docu-style elements, it's a modern take on the "classic" from 15 years ago. Show-mances blossom; friendships are tested, while new ones are made; rivalries flare; songs are sung; and lives are changed forever as these young people discover the transformative power that only high school theater can provide.
Genre: Mockumentary / Musical
No. of Seasons: 1
Status: Renewed for a Second season; premiere TBA
---

Star Wars: The Clone Wars follows the Republic's clone army in their struggle against Count Dooku's Separatist forces, and features fan-favorite characters like Anakin Skywalker, Obi-Wan Kenobi, Ahsoka Tano, and Darth Maul.
Genre: Animation / Space opera
No. of Seasons: 7
Status: 7th and Final season premiered February 21, 2020
---

After the stories of Jango and Boba Fett, another warrior emerges in the Star Wars universe. "The Mandalorian" is set after the fall of the Empire and before the emergence of the First Order. We follow the travails of a lone gunfighter in the outer reaches of the galaxy, far from the authority of the New Republic.
Genre: Action / Adventure / Sci-fi
No. of Seasons: 1
Status: Renewed for a Second season; premiere TBA
---
COMING SOON
The Falcon and the Winter Soldier (Superhero action) – August 2020
WandaVision (Superhero romance) – December 2020
Monsters at Work (Animation/Fantasy) – Spring 2021
Loki (Superhero fantasy) Spring – Early 2021
What If…? (Animation/Superhero/Anthology) – Summer 2021
Hawkeye (Superhero action) – Fall 2021
Untitled Cassian Andor series (Space opera) – 2021
Big Shot (Comedy-drama) – TBA
Lizzie McGuire (season 3) (Comedy) – TBA
Untitled Gaston and LeFou series (Romantic fantasy) – TBA
Moon Knight (Superhero action) – TBA
Ms. Marvel (Superhero action) – TBA
She-Hulk (Superhero action) – TBA
The Proud Family: Louder and Prouder (season 3) (Animated comedy) – TBA
Untitled Obi-Wan Kenobi series (Space opera) – TBA
Untitled Turner & Hooch series (Action/Comedy) – TBA
---
---
SHORTS
Forky Asks a Question (Animation) – November 12, 2019
SparkShorts (Animation) – November 12, 2019
One Day at Disney (Docuseries) – December 3, 2019
Short Circuit (Animation) – January 24, 2020
Disney Insider (Docuseries) – March 20, 2020
---
COMING SOON
Untitled Chip 'N' Dale series – 2020
Muppets Now (Puppetry) – 2020
---
---
IN DEVELOPMENT
Earth to Ned (Talk show / Puppetry)
Life and Deaf (Comedy)
Untitled Diary of a Wimpy Kid series (Comedy)
Untitled Mighty Ducks series (Comedy-drama)
Untitled The Sandlot series (Comedy)
Untitled True Lies series (Comedy-Action)
Untitled Willow sequel series (Fantasy)